As I mentioned before in my post sent from my cool iPhone on Friday.  I posted a snap shot taken with my iPhone camera, giving you a little sneak peak of behind the scenes of Hunter and I shooting our first infomercial together.  
For copy right protection I am not allowed to talk about the Smart Thaw product until it airs.  So instead I am going to talk about our day and experience shooting an infomercial (info + commercial = infomercial).  Or better known as those long obnoxious commercials that come on late at night or early in the mornings.  Well, okay, so maybe not all obnoxious, but I tend to get a kick out of them.  I know they are full of interesting things to buy.  
Remember, I am not trying to step on any one's toes here, I am simply speaking about my own thoughts on these types of commercials and also my experience shooting them.  If you are an infomercial kind of person, that enjoys them and also purchases things from them.  Great!  No punt intended here.  
First of all, back in the day when I was just starting out as a model, I would shoot infomercials any time.  I was young and anything I could shoot being in front of the camera seemed like a great gig to me.  I would be thrilled to be working.  As I grew in age and in my modeling/acting career, I quickly learned that shooting infomercials was not really going to help my acting career or make the cut for the acting reel.  I then started to refuse them, telling myself they would 'hurt' my career.  
Fast forward....
My acting career stayed pretty busy shooting little appearances here and there on this or that film.  Shooting this or that music video and or regular commercials left and right.  My modeling stayed busy.  Then when Get Out came along, everything sort of just fell to the back burner because I was always on the road traveling and hosting.  
While hosting Get Out, life continues to move forward as well and before I know it,  I meet the man who would be the future Mr. Rice.  HA! HA!  He hates that, but its a funny joke around here because our dry cleaners know him as and call him, Mr. Rice.  I have to admit I get a pretty good kick out of it.  After I married "Mr. Rice", then along came the pregnancy and then Butterfly.  Before you know it, time and years passed by.  
I thought I would get going full swing this season of modeling and acting now that I had my figure back  lost the baby weight I had put on.  Only to find myself struggling super hard to get back into the swing of driving around in my car all day to auditions and castings.  Try doing this with a baby in tow, can make for one awful and un-enjoyable experience.  
My thinking process is that I would be super picky with the jobs I chose to do.  Taking on jobs only that were worth my time and or paid enough that covered the agencies fee and sitter fees.  The next problem I would then run into is trying to find a sitter at the last minute.  That's not an easy task.  Then with the economy, modeling took a hit just like everything else has, causing work to be less available.  So, with less work, and a picky choosing here, there hasn't been much to do. Not because I am not being hired or wanted, but between the two (less work and picky choosing) there just isn't much to work with. 
Well, the other day I decided to send the kid talent agent some recent photos of Morgan and Hunter.  That's just part of the deal with kids.  You must always send recent photos of them because they grow and change so quickly.  I then get a call from (we will call her Agent C.) saying how handsome Hunter is, and would he be interested in shooting a infomercial.  Of course I replied.  Then she continued to say that they need a mom also, would I be interested in shooting as well.  My first thought was "um, noooo." But then the smart brain cell I do have kicks in and I think to myself, "if I am going to be there with Hunter anyways, may as well shoot with him so that we both work together and get paid for having to be there anyways." 
I know I am a genius if I must say so myself.  
Then after my genius thinking, I hang up the phone.  By that evening I am kicking myself in the butt.  Genius???  
Quite the opposite in fact.
Now, I found myself taking on a job with Hunter.  Here is the catch......
1.  My call time for the "mom" is 9:00 AM.  
2.  Hunter's call time isn't until at 1:00 PM.
3.  I now need to find a sitter for Morgan for the entire day.  
4.  How am I going to get Hunter from school to get him to his job by 1:00 PM, if I am already there working and his dad is out of town? 
Not only that its one of those jobs that do not pay very much at all, while also having you do your own hair and makeup, bring half your wardrobe etc.  By the time night rolled around I was miserable.  
Having talked daddy into doing work from home Friday,  packing up all that was needed for our job, and making out Morgan's schedule for daddy and so on.  Luckily, Hunters school was going on a field trip, so I let him skip school and just go spend the day with me at the job until his time.  
Friday came, we arrived at the job, and we really lucked out.  We shot at a home that had children of their own, including a playroom.  And get this, the boy that lived in that home had BAKUGANS.  Imagine that? Can you picture the smile and look on Hunter's face when he realizes that he was in the home of a Bakugan Brother? 
The day ended up being an easy shoot day. The client and production crew were all super cool people to have met and worked with.  The day went by fast actually, because I worked most of the time, while also getting to hang out with my boy all to myself in between break periods.  Once his time came around and his pretend sister Madison arrived. The kids started to shoot their parts of the scene, while I took pictures.  
Hunter did a great job.  Such a natural.  The director coached the kids on what to do in their few scenes while I got to watch Hunter on the monitor and or take pictures from a far, and he really stepped up to the plate and did his thing.  
I seem so surprised only because in truth, Hunter hasn't done anything related to modeling and acting of his own sense his movie with Dylan and Cole (Disney's Suite Life Twins - Zac and Cody).  He was 5 years old when he shot that.  He hated the modeling stuff as a young child so I quit getting him jobs.  Now about 5 years later, realizing that he actually gets paid for such a job and that I agreed he would get to take $20.00 out of his paycheck to do with as he pleases, while the rest goes into his saving.  Also, that I would advance him such money once the job was wrapped and he did a good job.
He now gets it!! Modeling = $$, which = Spending on what ever he wants. 
Getting to skip school, make some money and then go spend it on anything he wanted was like hitting the lottery for a boy of his age.  He was so excited to be able to go to the store and purchase himself like 5 Bakugans.  And what perfect timing that was, because my friend Susan was coming over Friday evening with her son Tristan, so that he and Hunter could trade and have some Bakugan brawls.  
At the end of the day it ALL WORKED OUT. Morgan survived the whole day with daddy, or should that be 'daddy survived the whole day with Morgan?'.  Hunter and I had a great experience shooting our first commercial together, while getting to spend some one on one time with each other.  I love that boy.  
After all said and done...... I felt great getting out of the house, stepping away from only being a mommy for the day, while getting to work again and feel a little like my old self.  
Even if it was a silly old
infomercial,
that paid very little, provided no wardrobe, provided no makeup or hair stylist and will only air in the
wee hours of the night
.  
(notice what is holding the product up? two packs of cigarettes -ha!)
(finding stuff to keep himself entertained)
(he was a little short so he had some help)
(getting coached by the director to look like that)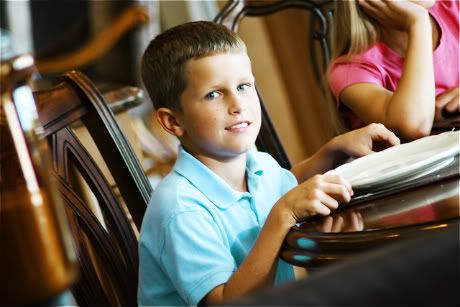 ***Quick Note***
I have been asked to do a guest post for someone in the near future regarding living and being a model/actress for 13 years.  This is YOUR chance.  I have never done this before.  If you have any thing you would like to know about modeling, acting, agencies etc.  Please leave a comment to this post and ask away.  I can't promise I will answer every question in that post, but I do promise to try.  And whatever I don't get to in that guest post I write, I will then surely do another post later on so I can answer all your questions.
So here is your chance.
Do you have any questions about modeling or acting?  
Ask away!!!