Energy.  
Energy is the first word that comes to mind when I think of Manhattan.  I love the energy in the city.  I seem to really feel this kind of energy in two cities out of all the cities I have been to, and that would be L.A. and NYC.  Some would even say Vegas gives off that energy, but not to me.  When I think of Vegas, I think of smoke, sounds of slot machines, and filth.  It always seems dirty to me, and I think its because of all the smoking with the gambling.  
This is agreed upon between both me and Mark.  We both just love the city of Manhattan.  I love looking at all (and many) tall building that surround you.  The herds of people walking in every direction there is around you.  The good smells (but not the bad smells) from all the great places to eat.  The lights.  The entertainment.  The sounds.  
We both say "we could live there." 
Let's start from the beginning.  
This was our first getaway (alone) with no kids.  This was also my first time away (ever) from Butterfly.  I thought I was going to have an separation anxiety panic attack, from her.  This was our first getaway as a married couple alone since our honeymoon.  Needless to say, it was way over due and much needed.  
We took off Friday morning, arriving in JFK airport around noon.  We get a cab, head to our hotel and check in.  We ended up getting our hotel room from "points" on our American Express card.  Go figure.  We stayed at the beautiful Sofitel Hotel.  That's French, in case you were wondering.  They take so much pride in it, that they hire french employees only to work there.  
Our room wasn't big, but I would take nice over size any day.  It was a beautiful room.  The bed was comfy, even though Marks feet did hang off of it.  (Laughing as I type that!) The bathroom and shower was nice.  We acted like honeymooners and well, did what honeymooners do when they first arrive to their room.  HA! (TMI - too much info?) This is my blog, remember that.  
(Hotel, Mark getting hair cut and checking out the city)
Then after that, what do honeymooners normally look for next?  FOOD! 
We heard Stage Deli was the place to grab a great sandwich.  Let me just say this, I thought NYC was known for the amazing pizza slices, but I have to say I think it's a pretty close run with their sandwiches.  These sandwiches were so huge, it was like having an entire animal on your plate.  Actually, I don't like the way that sounds, but for me I had the turkey club, and it was like having an entire turkey on my plate.  It was so good.  The ice tea in NYC, awesome also.  However, it was pricey.  We dropped a whopping $60 for two sandwiches.  Crazy, but mmmmmm.... good! 
We had made dinner reservations for Del Frisco's when we arrived at our hotel, but not knowing how big our sandwiches would be, we quickly slowly walked over to Del Frisco's to move our dinner reservations to the following night.  There was no way we were going to be able to eat a nice steak dinner at 6:00 PM after just eating that big of a late lunch at 3 ish.  
We then walked around for about an hour, then Mark decided he didn't like his hair cut he just got the day before in Florida.  We found a barber shop and had them buzz it back off. Our first day in the city and here we are getting a hair cut.  Silly, silly boy!  See men (especially mine) care about their appearance and hair just as much as we girls do.  We then headed back to our room, where we ended up taking an awesome nap before getting up and ready for our musical on Broadway.  We decided to see Rock of Ages.  What a great choice too, I tell you.  Mark, my 80's music lover knew every song in the entire show.  He loved telling the me song name and singer at the beginning of every sound.  This show was full of amazing talent.  The singers, the band and the creative art behind it all.  I love that stuff. I do believe if I had to do it all again, I would totally have experienced my feet in Broadway.  I love everything about Broadway shows.  
We ended up sitting in front of this fun group of women.  Guess where they were from?  TEXAS!  Then to top it off, as we were talking with them, the group in front of us then turns around to tell us that they too were from TEXAS.  To continue on, the college girl in front of us there with her parents, is really good friends with one of the ladies behind us nieces or daughter, something like that, so they ended up taking pictures together and chatting.  It was a great time.   The girls outfits are little to nothing, but if you don't focus on that, its a really great show.  
After the show we walked Time Square, while making our way over to Bryant Park, which was only three blocks or so from our hotel.  Unfortunately, it was closed already and so we just held hands and walked the city, while chatting whatever came to mind.  
On our way back we decided to chow down on a late night dinner at the Red Flame, this little diner next to our hotel.  It wasn't bad food, but in wasn't the best out of all the places we did eat at.  However, it got the job done by filling up our tummy's before turning in for the night.  
Saturday, after waking up to a great nights sleep.  No up in the middle of the night screaming, no getting up to check on baby girl to see if she is warm or cold.  No baby monitor making annoying sounds all through the night by radio waves in the air. Just a white-noise machine, a comfy bed, one eye mask, no kids, one full belly and one great nights sleep.   
We get up and Mark had "Metro Cafe" on his mind for breakfast.  So, Metro Cafe it was.  After breakfast we went back to the hotel and got ready for our travels to the Yankee stadium.  
By the way, this whole Google Maps app..... AMAZING!!!  I mean that app/program totally rocks the house.  It was so quick, so sharp, so informative with anything and everything that we needed getting around NYC.  I love it.  It is by far my new favorite thing on my phone and I didn't even know it was on my phone for the longest time.  Who needs a tour guide map ever again when there is Google Map?  Sorry, had to throw all of that in there, because it was very cool having that app in the palm of our hands.  It made getting around New York a breeze.  Its also cool when you are using cabs, so you know they are not taking you the long route.  HA! 
Okay, back to the Yankees game.  We arrived, and the new and old stadium are crazy close to one another.  For Mark he had so many mixed emotions going into the new stadium.  He missed the smell and the energy that came from the history of the old stadium.  The one he grew up knowing.  For me, the new stadium was top of the line and great.  I obviously didn't grow up going to games at the old stadium, and so the history and stuff that Mark speaks of, I can appreciate, but couldn't relate in full.  
Our friends Joe and Kim Girardi rocked the house with leaving us VIP tickets at will call to some amazing seats.  We sat 20 rows up, behind home plate.  Oh yes we did.  We did not expect that at all.  We knew we would have good seats, and we were just thankful for anything that Joe could give us.  Mark just wanted to see his Yankees and check out the new stadium.  When we picked up the tickets, Marks response was "WOW!" over and over again like ten times, as a kid would be walking into a candy store for the first time.  It was very cute to witness my thirty something husband become 8 years old again.  
It was a very hot day, but that didn't stop us from having a good time.  We got some sun on our arms and legs.  My honey purchased me a Marc Teixeira t-shirt, that I changed into and sported around.  If you follower me on TWITTER, then you recall my comment about me sporting the only 'gear'.  Yea, I was like what the heck man? Come to a Yankees game and my honey seemed more concerned about what he looked like than I did for once.  I rocked out a Yankee t-shirt and hat that I brought from home.  And there was Mark with his black shirt on, and his Yankee ball cap folded in his back pocket.  Whateverrrrrr!!!!  
And get this, the last time Mark attended and watched a Yankees game in the Yankee Stadium was back in 1998, I believe he said.  The last game he attended in that stadium, David Cone pitched, and Joe Girardi played catcher.  How crazy is it (and we had no idea about this until this weekend) that David Cone came out to throw the first pitch of the game, and while Joe (now the Manager of the Yankees) came out to catch?  Pretty crazy, if I say so myself.  I think that is pretty radical.  What are the odds?  
By the way, I looked good in my Yankees get up too! HA! Just in case you were wondering. 
After getting into our one and only argument of the trip, over NACHOS.  We had a great time at the game.  Yes, we argued over nachos.  I am a pretty easy going person.  I let Mark pick every single restaurant, show, event, hotel.... the entire weekend in New York.  The one time I decided to stand up and voice what I WANTED, we get into an argument.  I eat like a child. I eat my food very simple, very plain and boring.  Mark ate an hot dog, we decided we would go get my nachos.  On MY nachos I wanted beef and cheese only.  Then here was Mark telling the lady to put this salsa on the side, peppers on the side, sour cream on the side. As you know, these little bowls they put the nachos in aren't big at all to begin with.  By the time she got through putting all that stuff "on the sides" (every corner of my bowl) there was very little left uncovered of my beef and cheese only.  I of course get my feathers all ruffled up, because I was hot and hungry.  I wanted my nachos the way I wanted MY nachos.  After all they were MY nachos.  Let's just say that we sat a few innings in silence. I still enjoyed the game.  I think Mark came to his senses and realized how inconsiderate he was about MY nachos, when after all I hadn't made one choice for us the entire time we were there.  I let him do what he wanted to do to make this a fun weekend trip for him, and I was there for the ride.  I can go with the flow, just as long as you don't mess with MY FOOD.  LOL!!  We made up before we left the game, and back to being honeymooners again.  
We had to go back to the hotel and makeup before going for a walk to Bryant Park.  We sat in the reading room for a few and just relaxed.  The weather was perfect and breezy.  Oh and sorry, mom and mom-in-law if some of this is too much info (again).   I love you guys though.  LOL!  Writers don't need to tip toe around things or hide details.  I think its fun and keeps things interesting.  Besides I am trying to not leave anything out, so when I look back on this, sort of like the movie Note Book.  I want to remember all the details, good, bad and juicy.  This is what life is about, creating such memories.  
After that, we again took an amazing two hour nap, before getting up and ready for dinner.  Funny thing is,  I didn't sleep very much at all the night before we flew to NY.  I thought I would try and sleep with Morgan in Hunters bed my last night with her.  Yea, lets just say that was a very, very, very bad plan.  She woke up and thought it was play time, it took me over an hour to get her back to sleep.  I got very little sleep.  So my first day in NY, I was so tired.  I had suggested in the cab about wanting to get in a nap at some point.  Mark sort of shook his head as in disagreeing, saying "I didn't come to NY to sleep."  Go figure.... we ended up taking naps, and naps that Mark himself suggested.  Realizing how good he felt after those naps.  So much like a kid he is, right?  Like taking Hunter to Disney, tired as heck, but doesn't want to be made to take a nap.  Once he finally gets in his nap, realizes how great it felt and glad he did take a nap after all.  Napping is a good thing.  Good for the entire body, and for those around you if you didn't get any sleep the night before.  I'm just say'in.  
Finally, we made it to Del Frisco's.  You want to go to a place for a 'right on the money' steak, then Del Frisco's is the place.  Sort of like "the man." We had a great time enjoying an amazing dinner, just the two of us, talking and holding hands.  Getting to know 'Paul' our waiter really well in the process.  Nice guy.  After a bottle of wine (had by only Mark),  Mark and Paul were pretty chatty.   We won't talk about that bill for two, because you know if you are at a nice steak house, its going to be a pretty penny, dime, nickel, quarter....leg, arm, your daughters college fund, to pay for that meal.  You get the picture.  The leg and arm probably worth it though, it was a very classy, tasty and delicious dinner to have had.  
(Does he look like he had a whole bottle of wine? I can tell! LOL)
My friend Blair lives in NYC and had returned back from her travels earlier in hopes that we could meet up. We made plans to meet up with her and friends down in SoHo at Merc Bar around 11:30 PM.  I know, crazy how late people get out on the town right? We were game though, and figured we would go back to the hotel, brush our teeth, chill for a few and then head back out.  Actually I wanted to change my entire outfit and shoes as well.  We walked around and slowly made our way back to the hotel. We dive for the bed and just chill for a few, stuffed like two pigs ourselves, laid out on the table as a buffet.  While I am texting my friend Blair and reading up on tweets, I then look over and see my honey with his full belly and whole bottle of wine, passed out sleeping next to me.  No big deal I thought.  I figured I would just wake him up when it was time to head out.  I mean after all that was only like two hours away, how bad could that be, right?  And HE didn't come to New York to sleep!!! HA!
Finally, 11:15 PM rolls around and I haven't heard from my friend, so I text her to get the update.  She replies that she was running behind so we would meet there at midnight, and she was almost ready.  WHAT??? Midnight?  I know it was only 30 minutes later than the original meet up time of 11:30 PM, but I had already been sitting there for over two hours, flipping through channels, listening to Mark snore and tweeting.  It didn't look like Mark was going to be up anytime soon either.  I was finally tired and a hot shower and bed sounded better.  Let's just  say our Saturday night wasn't all that exciting after dinner after all.  LOL! Although, I did entertain the thought of sneaking out and meeting up with Blair, leaving Mark there passed out, I mean sleeping.  Wondering what his reaction would have been had he awakened and didn't see me there.  That would have been funny, but I was just too tired to play the prank. 
But the middle of the night got pretty exciting after my husband had a few hours of sleep .... I will leave that up to your imagination though.  
After yet another amazing nights sleep, its Sunday now.  Our last day in New York.  I sort of have that bittersweet feeling shooting through my body.  Getting all excited knowing I will see my little girl in a few hours, and sad to leave the city and back to Florida, where no one goes to parks just to hang or to read books, because parks stink out here Florida, and you get eaten up by bugs.  It just isn't the same.  
We were told by my blog friend
Stacy
, that Sarabeth's was a great place to have brunch at.  We took her suggestion and walked about 15 blocks to Central Park, and put our name on the list at Sarabeth's.  That place was packed.  We were told it would be about 2o minutes, so we thought we would go sit on a bench in Central Park and people watch.  Instead we not only watched people, we watched the Statue of Liberty take pictures with tourist.  We watched Dr. Phil, filming whatever it was he was filming in the park.  We watched people trying to take pictures of Dr. Phil, filming whatever it was he was filming in the park.  And we watched Captain Jack the mime, stay really, really, really still until someone put in a tip in his box, to make him "come alive" and take pictures with him.  The funniest was a little boy in his stroller.  His parents droped in a dollar in Captain Jacks box, Captain Jack comes alive and starts moving and waving at the little boy with his hook arm.  That little boy freaked out, scrambled to climb out of his stroller, and couldn't get out of it fast enough and started running away from Captain Jack.  It was hilarious.  Priceless was his expressions while doing it all.  Didn't like Captain Jack so much alive after all.  I wonder if he wanted his dollar back?  LOL.
After having had enough smell of fresh horse crap, we walked back over to Sarabeth's, and just as we stepped up onto the sidewalk to wait for our name, our name was called.  Perfect timing.   Stacy was right, this place was great.  Great food and service.  The only minor glitch during our visit there, was the ice tea mishap that almost made me lose my lunch brunch.  Mark was drinking coffee, while I was drinking ice tea.  When they gave me a fresh glass of tea, I went to take a drink of it.  I was a bit grossed out, because I could smell Mark's coffee, and swore that it was affecting the taste of my tea. I asked if he would move his coffee to the other side, thinking maybe it was the way the wind was blowing and it was blowing the scent of his coffee in my direction and affecting my joy on sipping my ice tea.  I take another sip and again I taste coffee and I am starting to feel a bit sick.  I look at Mark again and tell him I taste his coffee every time I take a drink of my tea.  He is like "what the heck, how are you tasting my coffee in your ice tea?"
I then take one more drink of my tea, and by this time I am like "okay, Mark you taste this and tell me what you taste." That was a bad idea, he tasted tea.  While I tasted coffee every time I took a drink. I then stop our waiter and asked him if this was a different tea or freshly made, and told him what I was experiencing.  He says to me "yes, it is a fresh brew of tea, and I too thought it looked dark, maybe they put too many bags of tea in the mix. I'll go check it out." 
He comes back and apologizes for the mishap, and took off the glass of tea and our side of fries off our menu, although we told him that wasn't necessary.  We did appreciate it though.  So, of course after thinking about it, I should not have asked a guy that is actually drinking coffee, to taste my tea, because to him it would taste like tea compared to his coffee.  I knew I wasn't imagining things, nor was I crazy.  Other than the little tea mishap, the place was splendid and I highly recommend anyone to try it out if ever in NYC.  
The next thing we did, we went and actually walked through Central Park.  What a great park.  I love it.  I used to roller blade in that park, back in the day when I lived there, while filiming Guiding Light.  Being outside was just so nice.  People laying, sunbathing, reading, eating, relaxing and sleeping all over the place in that park.  Love it.  
We walked upon a few softball games going on, and decided to climb up on some rocks and watch for a bit, both wishing we lived here and could be playing softball like that on this beautiful Sunday afternoon.  
I found myself lost in a daydream, thinking of all the wonderful days I could and WOULD be the perfect mom, IF we lived in Manhattan.  Taking my kids to Central Park every day, flying kites, reading books and just being oh so happy.  Doesn't that just sound so nice and so perfect?Oh how I love fantasies!!!  
After a couple of innings of the softball games, we decided we would take our walk back to the hotel.  On the way back we had to make a quick stop at Del Frisco's because Mark after his whole bottle of wine, left his cell phone there.  Silly boy.  We were lucky that someone was even there since they didn't even open till 4:30 PM, the same time our flight would take off for Florida. After picking up the phone, Mark was on a hunt for the fat free yogurt ice cream truck we got ice cream from the first day we arrived.  It must have been the only fat free truck in the city, and like Chick-Fil-A, must not work on Sundays, because we walked and walked and walked looking for that truck, to only end up at several regular ice cream/yogurt trucks.  He walked up to one truck and asked the lady if by chance they had any fat free, she shook her head 'no' at Mark and said "what we have is more tastier."  Mark got a giggle out of that, but no sale.  It has to be fat free.  So, we walked, and walked some more... and found ourselves walking in a market that was open in Time Square, and instead Mark settled with a fresh fruit made smoothie.  We walked more and more, and finally our legs were starting to feel all that walking from the last three days.  We decided to take one more stop at Bryant Park for the last hour we had in the city.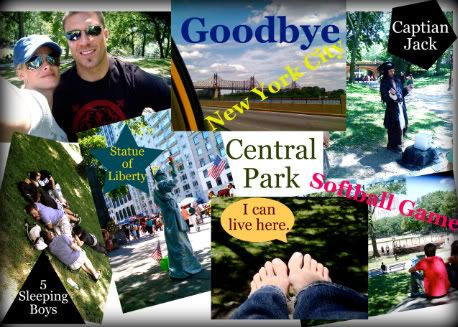 (Those boys were seriously all sleeping in a pile like that)
We found a nice shaded patch of grass to lay on, right next to the girl in the white bikini.  Just seems like an odd mix.  Seeing people reading, sunbathing and or on their computers, reading or hanging out in one park, in the city with no water around.  Just doesn't seem right.  My brain doesn't register all of that.  While Mark read one of his books, I tweeted for about 30 seconds bragging on my view looking up at all the buildings, trees and blue skies, before falling into a hard snooze there on the grass.  That 'hour' we had seemed, like only 20 minutes, when I heard Mark saying "babe, babe, its time to go." 
As we were leaving Bryant Park we noticed a lot of action taking place and asked around to see what was going on, to learn that Rachel McAdam's and Patrick Wilson were filming "Morning Glory" in which I believe is a romantic comedy.  I could be wrong.  I like both Patrick and Rachel, so I will be looking out for that movie regardless.
I have been on so many sets, and around so many celebrities, its like another day of work to me.  However, something about being there in NYC, with Mark, and then seeing Patrick and the film crew at work, made me become a little paparazzi nerd.  I got out my camera and took a couple of photos of Patrick, the film crew and the extras.  Secretly hating that I was going back to Florida, and wasn't living in NYC, being a part of this film.  HA!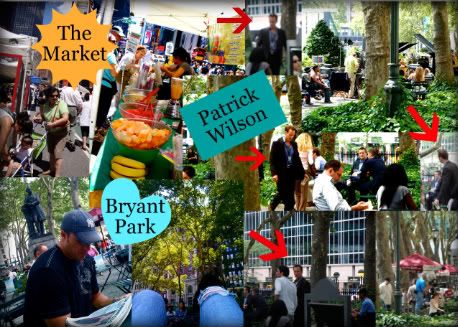 Off to get our luggage at the hotel, grab a cab and back to the airport.  Taking a picture of a bridge from my car window, as I bid my farewell to a beautiful city, a wonderful weekend and a great second honeymoon.  Thank you Mark, I love you. 
But it doesn't stop there.... we of course had to get in one more slice of NYC's pizza before getting on our flight.  
A smooth flight home for the most part, a little bit of turbulence toward the end of the flight that left me feeling motion sick for about an hour after we landed.  I was so happy to see the face of my little girl, and to smell her and kiss her.  I quickly forgot about NY and the turbulence at that moment that my little girl wrapped her arms tightly around my neck.  At that moment, my biggest prayer also had been answered.  I prayed that God just allow me to get through my weekend with my husband, and get back to see and hold and kiss my little girl, one more time.  I prayed that it would not be my last time with her when I left for New York.  I guess making sure that our last Wills where signed and stamped before we left put some fear into me.  I told Mark on the car ride to the airport heading to NY, that I have never been afraid to fly before, until today.  I was stressing that much over leaving my little girl in FL.  I think it was because I have never left my kids in a state alone without someone in the family there with them.  I was leaving Morgan with a friends, and not one family member near her in the same state.  
Thank you God for an amazing getaway weekend with my husband. Giving us the chance to reconnect as a husband and wife.  Thank you for the blessings we have that we are even able to take such a vacation like this.  We are thankful, grateful and abundantly blessed.  Thank you so much for the safe travels and for the safety of my children.  Thank you for my friend Val for giving up her weekend to be with Morgan.  And thank you for letting me have that answered prayer, of making it home to see, hold, smell and kiss my daughter one more time, and then some.  Amen.
Well, how is that for a detailed look into our fantastic weekend in New York?  You packing your bags and looking online for flights now?  I don't blame you one bit.  
Thank you Joe and Kim for the awesome seats at the Yankees game.  What a great game it was to watch also.  You guys have been amazing to us, and when things slow down, put us on your calendar, because we are taking you out to a nice dinner.  
If you are still reading this, I hope you enjoyed the pictures and don't forget you can follow me
HERE
on Twitter, and
HERE
on Facebook.  
And look at this picture that Mark took tonight.  This is my little girl sitting in my lap, watching her favorite Choo Choo Soul videos on youtube, while I typed my blog post.  She loved just hanging out in my lap watching her videos.  Too precious.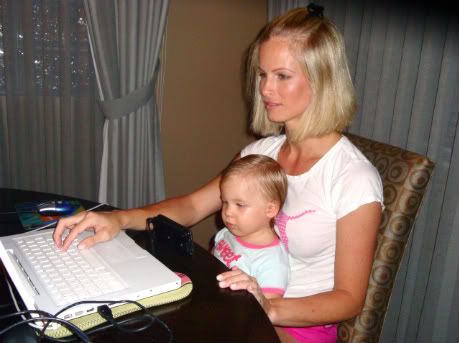 (She is watching Choo Choo Soul, on my iPhone)
Until next time New York, I'll be singing this.  Although, they play a lot of Frank Sinatra in NY, in which I also love.  
They say the neon lights are bright

On Broadway

They say there's always magic in the air

But when you're walkin' down the street

And you ain't had enough to eat

The glitter rubs right off and you're nowhere

They say the chicks are somethin' else

On Broadway

But lookin' at them just gives me the blues

'Cause how ya gonna make some time 

When all you got is one thin dime

And one thin dime won't even shine your shoes

They say that I won't last too long

On Broadway

I'll catch a Greyhound bus for home they say

But they're dead wrong, I know they are

'Cause I can play this here guitar

And I won't quit till I'm star

On Broadway

But they're dead wrong, I know they are

'Cause I can play this here guitar

And I won't quit till I'm star