Hello, my name is Misty and welcome to my personal blog. In this blog you will read about my world. I first started blogging about my kids in order to provide family members, living miles away, a place to stay involved and feel close to our family, as well as to watch the kids grow. My blog has evolved from one solely about our family, to a platform to show how God works through our lives, while exposing his plan for us. This is our journey into the unknown, as we trust and have faith in the author of our plans. His plans!
The title of my blog, "The Wing Beneath My Wings," actually came from the 1989 song by Bette Miller. The song was played at my cousin's funeral in 1997. It seemed to always stick with me. Every time I hear that song, I quickly stop what I am doing, and I think about my cousin. Angel was killed in a car accident, leaving behind three small children. I had originally thought of the title "Take My Breath Away" for my blog. Yes, that song by Berlin. Thankfully, I heard my title track one day and it hit me—this is "me" and what my blog will be about. My kids, my husband, my kitties, my friends and my family—the ones that make my time here on earth a beautiful place. The "Wind Beneath My Wings." And all of the aforementioned are "one"—intertwined by the master and creator of us all, our God.
Thank you for taking the time to better know us through this blog. I hope you'
ve
enjoyed reading it and, more importantly, I hope that it touches your life.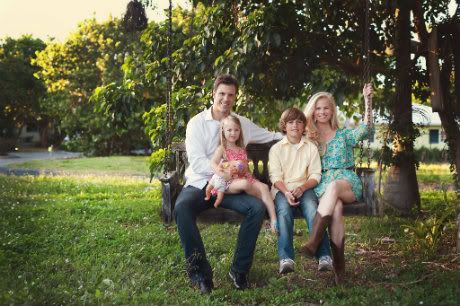 Now, a little bit about us.
Mark and I met through mutual friends—my best friend Lisa and her husband David, the pastor of our church. I'
ve
been adopted into their family in Florida, as mine live far from here. Lisa Hughes originally was my agent (modeling/acting), and her husband David is the head pastor of our amazing church here in Coral Springs, Florida (
Church by the Glades
). Lisa has now been my best friend for the last eight years—and David is a brother, of sorts. David was a workout partner of Mark's, and he had mentioned me several times over the course of two years. Lisa often mentioned Mark to me. However, our paths never crossed. I had been traveling a great deal, hosting
HD
Net's travel show 'Get Out!' Mark moved to Coral Springs, starting the next chapter in his life after retiring from the National Football League. Mark played in Jacksonville for three years and Denver for one, playing his last game in Houston in 2003 after injuring his knee.
On July 30
th
, 2006, our paths finally crossed and we met after the 11:15 AM service at church that Sunday morning. Prior to meeting Mark, I had been a single mom for several years, which were marked by many stressful and painful custody situations (regarding my son, Hunter). To make a long story short, the night before that 11:15AM service and meeting Mark, my future husband to be, I prayed for him. Late that Saturday night, I drove home from Disney World, with my son Hunter and Angel's daughter (
Joslynn
, who was in town visiting me—and she looks just like her mother by the way). When I got the kids home and in bed, I laid down, started crying, and pleaded with my heavenly Father. I told Him how lonely I had been for the last five years as a single mother. I asked him to please give me someone that could love me, and my son, while being my companion in life. I met Mark the very next day at church. I love God *winks*.
Mark and I were invited by the Hughes to join them and some friends for lunch that day. We went and had a wonderful time. We exchanged our contact info and went about our ways. Mark, never sending a text message before in his life, decided he would text me a quick message to tell me it was nice to meet me, and that he would like to see me again. Little did he know, but he won my heart by that text (kidding, but if you knew me you would agree). I love to text, despising conversation on the phone.
We went on our first date the following Friday (8/4/2006), and have become inseparable ever since. In October, almost three months after our first meeting, Mark took me to Rochester, NY, to meet his family and visit his
alma
mater's (Syracuse) homecoming. He then drove me to Garrett's Chapel, this beautiful place on
Keuka
Lake. While taking in the breathtaking views from a bench, he proposed to me with a beautiful diamond ring.
Engaged for another short few months, we wed at the Riverside Hotel in Fort
Lauderdale
on February 11
th
, 2007. I became pregnant, had a miscarriage, and became pregnant again in August of 2007, exactly one year after we met. We had our beautiful little girl, Morgan Paige, on April 14
th
, 2008.
We are now a family. We are far from perfect, but we trust in God's perfect love for us. Hunter is now eight years old and in the second grade. He is our little athlete, playing on travel hockey and baseball teams, with hockey his favorite. Hunter is strong-minded, and although difficult to communicate with him sometimes, I love his strength. He is my first real love and gave me my first glimpse of what life is truly all about. He loves me no matter what—I am so thankful and honored to be his mother.
Morgan Paige will turn one in April of this year. She truly is just a pure bundle of joy, our little Butterfly. She is learning so much each and every day, the latest figuring out how to crawl. She has made our family the full package, the cherry on top. We prayed for her and God rewarded us with her, His gift to us.
Mark is now a wealth manager, primarily for professional athletes. Mark and his partner in the business, Rob Konrad, were college roommates and teammates at Syracuse (Rob also played for several years for the Miami Dolphins). Understandably, athletes have an inherent respect and trust for both Mark and Rob to manage their wealth. Mark's true passion, though, is trading (speculation). He recently finished writing a business plan, in hopes of opening and running his own fund. We will be praying and ask that you join us in that prayer, that God lead Mark into the right hands if this be His will for Mark.
As for me, your host, I am still modeling and acting, while learning each day how to keep my life balanced and in perspective. I am a stay-at-home mom to Morgan, exploring my passion for photography, and a servant to my kids, my husband and anyone that comes into my life. I am, simply and beautifully, thankful that God chose me to be ME! I am honored and blessed, to see where my life has been and how far it has come. God has shown off a great deal in my life. I often feel that I could be a more productive witness. I do not have answers to hard questions, and I can't quote scripture. However, I am learning, and my prayer is that my life story is a beautiful testimony for witnessing about our Lord and Savior, Jesus Christ.
So join in and become a follower of my blog. We will follow Him—you never know where the Wind under these Wings will take us next!!!