As seen on TV, I recently worked for
PajamaGram
. I mostly modeled all their 2010 Valentine PJ's. Although, not all of which I modeled are not online just yet, but I will also be in the new catalog. You can order your free catalog from their website.
In addition to that I also filmed two commercials for PajamaGram, one for their famous Hoodie-Footie Snuggle Suit as seen
here
.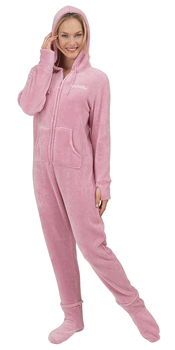 I had such a great time working with a long time friend of mine Victor, who booked me on the jobs.
Not only did I have fun, I got to keep my very own Hoodie-Footie and PajamaJean. I love them.
The PajamaJean is especially my favorite, because they stick to as advertised. I wore mine for a 10 hour shoot, having taken them off and put them back on for different parts of the commercial to shoot. The jeans never once lost their shape on me. They did not loosen or get sloppy, nor did they wrinkle. They were soft and cozy on the inside, while looking like a styish pair of jeans on the outside.
*NOTE* I am in no way writing this post because I have been asked or getting anything in return for promoting this. I actually feel this is a fun topic, something that maybe would be of interest to you and a funny story that now involves YOU and a special giveaway!!!!
Funny story:
After I had modeled for the PajamaGram client, I had went online and signed myself up for the catalog so I could have a copy of my own work. Its often hard to see and get hard copies of your actual work when modeling, so when you get a chance to get it, you do.
Well, a few weeks went by and all of the sudden I received an email. The email said this.
Recently you signed up to become a member of PajamaGram's VIPj Email List. Each month we choose a new VIPj Member to receive a free PajamaGram and we're happy to inform you that you have been selected as this month's winner.
As our lucky winner, you are invited to select up to $100 of PajamaGram products. You can have your PajamaGram shipped to you, or treat someone special to a special surprise by shipping it to them — it'll surely make their day! We can ship your PajamaGram anywhere within the Continental U.S.
All we need you to do is fill out the attached form and return it to us via a reply to this email or via fax at (802) 985-1382 (Attn: Laura Fitzgerald). As soon as we have received your completed form, we will send your PajamaGram on its way.
At first I thought it was some kind of spam mail or gig with strings attached. I sent the email to my friend Victor, and he confirmed with a giggle "that's funny and offical."
I have been chosen randomly to receive $100 free stuff from PajamaGram. This part of the company has no idea who I am or that I just recently modeled for them. All they did was place my name is a recent customer that signed up to receive catalogs for them and I won!
Pretty funny, right?
Sure it is, Misty! But what does that have to do with US?
Glad you asked.
You see, I decided that I would like to take my blog in a little different direction. I would like to start blogging and building my audience. I plan on blogging about my children, modeling and life in general, just as I do now. As well, as blog about anything and everything I can think of (sort of like I do now, too!). Ha!
Like my little soap box! (sort of like now!)
But I never tried to really grow an audience. I want to see if I can slowly but surely grow my audience and take my blog to the next level.
"So what does that have to do with us, we ask again?"
Well, my little blogging buddies, this is what it has to do with you.
I am going to give it away to a lucky blogger. You will be able to shop online to your hearts desire (up to $100's, that is). You will then place your order with me via email. I will get your order shipped out to YOU!!! You can shop for yourself, your dog, your family or a friend. Whatever you like! You can even order yourself your very own Hoodie-Footie or PajamaJean and be cool like me! *giggle-giggle*
Awesome right?
"So what do we have to do? You know those strings attached?"
Well, yes, there is a little tiny string attached, but it's so tiny, its more like dental floss. Its easy. Don't you think $100 in free stuff is worth a little tiny effort on your end?
"Maybe, depends on what it is I guess."
That's the spirit!
All I am asking is that you following me here on my Blog and Twitter, and spread the word about me. I also have a Facebook account, you can jump on their as my friend too. If you have one of the three (facebook, twitter, blog), I ask that you give a little shout out to my blog (with link) and this post, on one of yours.
I am not going to do the whole "points" thing, as other blogs do. I find that to be a little annoying. Okay, I find it to be really annoying. Besides, I don't want to keep up with all of that.
I would just like to gain some new readers. Simple.
I will wait until Feb. 1st to draw my winner. This gives myself and you two weeks to help spread the word. While also announcing the winner 14-days before Valentines Day, just in case you want to order something for yourself or someone special in your life.
While I have your attention, I want to do a blog makeover. Does anyone have any creative ideas for a model/actress/mother and wife? I always love to hear other peoples creativity. Toss that out to me in the comment box too if you feel up for it.
Okay, I am done.
Start following me on the following:
1. Here on my Blog! (just hit follow me to left of my blog)
and
4. Leave me a comment here telling me were you are following.
Leaving a comment here on my blog is a must, so I can keep tabs. I will do my (random) drawing from the list of comments on this post February 1st.
If you do not have twitter, blog or facebook. No worries. Just leave a comment and I will still include you in the drawing. I am just asking my readers for some extra love by helping me spread the word.
PS: If any of you already have the PajamaJean or Hoodie-Footie, please share. I would love to hear some personal stories from you on what you think about them.
Be sure to follow me some place so you know when I announce the winner on Feb. 1st.
Thanks for spreading the word.