Yes, I know this is really, really, really..... REALLY OVERDUE.
However, my life shortly after that made that trip to Nashville, took an unexpected turn of it's own, and I am currently dealing with my real life "Plan B."
You will have to check out
THAT
post for photos and video from the filming shoot if you missed it.
Do you remember me also saying that I had negotiated Pete a little 'trade out' for my travels to Nashville?
Do you also remember me saying that I would write another post with those details?
Well, lucky you... this is that post today. *smiling* Its seems like months ago, but this was only February.
By the way, are all of you ready for Easter this weekend? I am finding it harder and harder to prep for anything ahead of time like I used to do so well. I am becoming more and more of procrastinator and I don't like to say that out loud. I don't considered myself to be one to procrastinate at all. I am a go getter and doer. Until these last couple of years now having two children, schedules and travels to keep up with, I now seem to plan for holidays, birthdays and special occasions at the last minute.
My point is...... I am going shopping this evening after Morgans nap for the "Easter Bunny."
Nashville Part II.
Once upon time......
Just kidding!
Two-years ago this month, I was a pretty BIG pregnant girl women, ready to burst. My dear BFF told me of another pregnant women and of her blog. We (the blogger and myself) had the same exact due dates of April 14th. Both of us were also carrying daughters. I thought how fun and exciting, and I couldn't wait to get online to check out her blog.
Unfortunately, my BFF being the best of friends she is, would not allow me to view this bloggers website until AFTER I had given birth to my own daughter. That of course, for me, is NOT cool. I went into asking question after question, for I wanted the details and to know WHY? I don't like being in suspense at all.
She would not share no matter how many times I bugged her about it.
On April 14, 2008 at 8:16 AM I gave birth to my healthy beautiful daughter MacKenzie Morgan Paige. It was a beautiful spring day in Florida. I remember it well.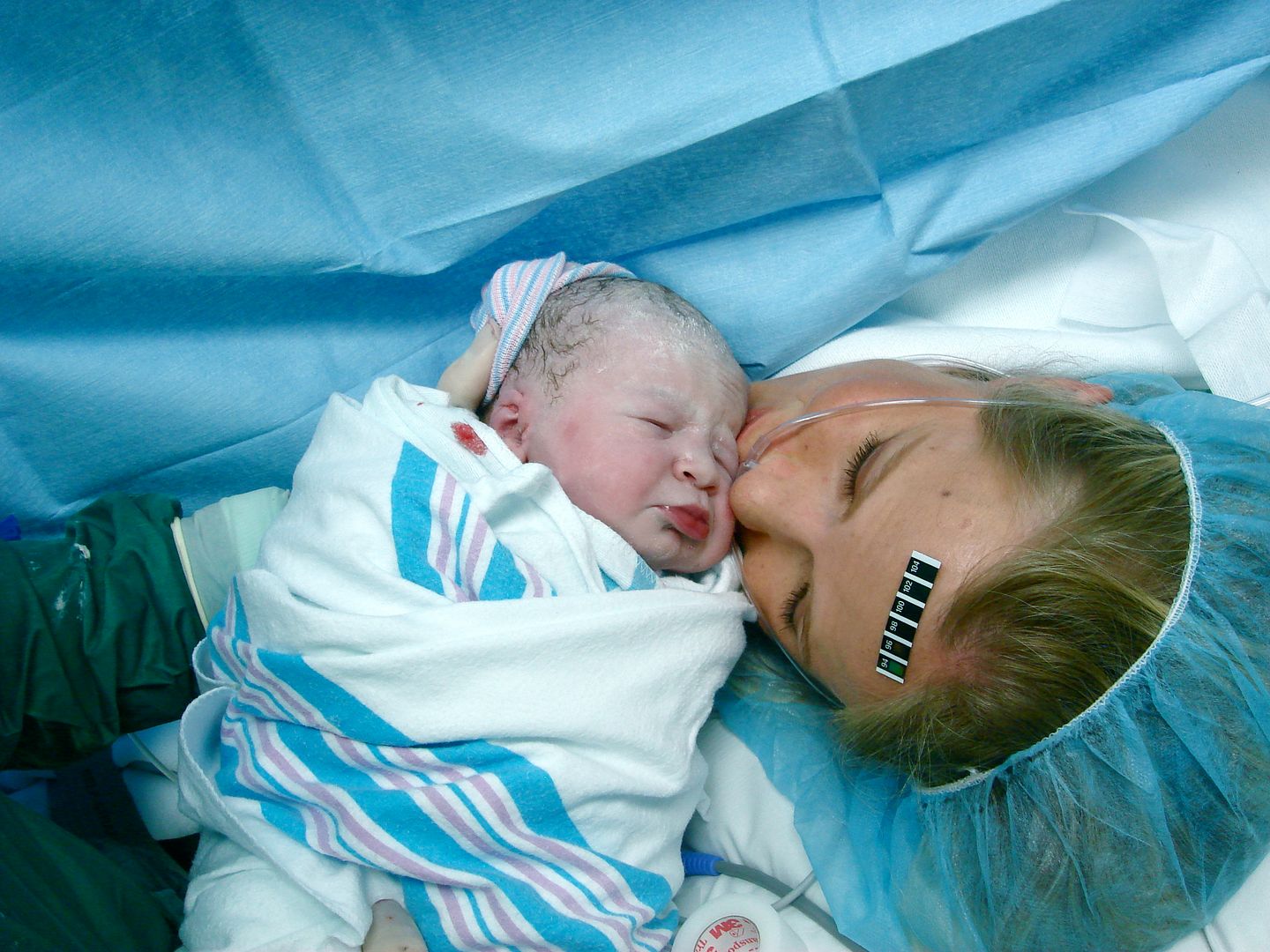 About a week or so after going home with my new bundle of joy, my BFF finally gave me the link to that blog.
I remember getting the kids down for bed, husband in bed and I was sitting up on the couch alone with my laptop reading her blog. Tears begin to fall, my heart ached and broke for what I was reading.
Her story touched me so deeply, and I instantly grew a bond with her forever.
A lot of us being in the same blogging circle know her well and her daughter's story.
Her beautiful daughter Audrey Caroline, was diagnosed with a heart defect and wasn't expected to make it to birth. A week before her due date, her mother was scheduled for a c-section to deliver her little girl. On April 7th, Audrey Caroline was born, and she lived for 2 1/2 hours. Her mother was able to hold her, hear her little heart beat, kiss her, feel her breath and see her eyes. After 2 1/2 hours in her mothers arms, and her sisters sitting on the bed around her and their mother, she quietly slipped away and into the opened arms of Jesus, her Heavenly Father.
I cry as I type this, thinking about her story. I remember how I felt the first time I read her story and two years later I still feel that way.
April of 2008... two mothers due on April 14th. Two mothers gave birth to their daughters. Only one mother went home with her arms full, and the other went home broken hearted and with empty arms.
Something about that seems so unfair. Even though I am the mom with the full arms.... it still feels unfair.
April 2008, one angel God chose to stay for His purpose, and one chosen to return early for HIS purpose. Little Audrey Caroline has touched so many lives in her months in her mothers womb and her brief 2 1/2 hours here on earth. I only hope and pray that I can reach that many lives and share the story of my Savior as that little redhead beauty has. I hope that I am able to raise my daughter in a way that is pleasing to Jesus. That she becomes a so filled with her own love for Jesus, that she'll be used by her creator to tell a beautiful story that was written by Him.
A year went by and here we are with another passing year. Has it already been two-years? Two years since my little princess was born, and two years since her little princess took her last breath? A part of me is sad in many ways. Sad because my little girl is growing up so quickly, and very sad to see that my new friend isn't getting to celebrate the birthday of her little girl once again. Instead, its another hard milestone to face.
I read her blog (every post) and I always admire her beauty, her strength and even her humor. I had hoped to meet her one day, and always imagined what that greeting would be like. I imagined us both just meeting eye-to-eye, face-to-face with an instant bond, huge hugs and tears down both of our face. I simply just wanted to hug her. Not that she necessarily would want to hug me back the same.
Never did I know this day would actually come, and I would have the chance to meet her.
Then Nashville and Plan B came into the picture.
I am sure most of you know who I am talking about.... and with out further waiting. I asked Pete if he would have any pull with setting it up so that I could meet my sister in Christ,
Angie Smith
.
Not only did Pete know Angie well, she also attends his church where he is the pastor. He wrote me back with wonderful news and a few more surprises.
1) Yes, that he was able to set it up so that I can meet Angie.
Angie, also knew of me, as we had been in communication through the blogging world, and as well she new my BFF and a couple of others from my church. Small world, right?
To my surprise she told Pete she knew who I was and was just as excited to meet me.
As if that wasn't exiting enough, Pete also told me that her husband
Todd Smith
, who is a singer in the band Selah, whom was supposed to be out of town, is now in town, and will also be joining in that greeting. He made dinner reservation for his wife
Brandi
, (whom I call a friend of mine now) himself, me, Angie and Todd Smith.
2) I then get another email a few days later saying that one of Angies BFF's, and also blogger/mommy,
Jessica Turner
. Whom I also follow and know through blogging. That her and her husband, Matthew Turner, also wanted to join us for dinner.
WOW!!!!
What an unexpected, joyful, wonderful and amazing surprise for me.
I arrived in Nashville. I filmed the video. The book will be released in one month now.
Then evening falls and its time for dinner.
Yet, I am given another surprise.
Angie and her entire family are meeting us at The Wilson's home, so her little girls can hangout with their little boys (3 girls and 3 boys, by the way).
Its time.
They arrive, the doorbell rings and my heart beats with excitement and I must admit, I'm a little nervous. I didn't want to play out my original imagined greeting there in the house in front of all the kids and other adults. So I gathered my composer, I walked around the corner and I see three beautiful little girls walk through the door and one of the most beautiful women (inside and out) that I have ever met. We both smiled, hugged and smiled again. I am quickly introduced to her daughters, Ellie, Abby and Kate, and her husband Todd.
They are everything you would expect them to be in person, and much more. What a lovely, God centered and God loving family.
We finally get the kids settled in with the sitter and we load up in Pete and Brandi's car. The cold air so crisp and fresh.
You would have thought we've all been friends for years during that drive to dinner. We were talking and laughing, telling story after story. It was a very humbling and rewarding moment.
Once we arrived at our dinner place, Bri Bistro Italiano (need I say more?). We are quickly greeted by Jessica and Matthew.
Okay, I seriously started to wonder if everyone in Nashville were as nice as these folks I am having the pleasure to eat dinner with tonight. Jessica gave me a hug, I shook Matthew's hand and instantly became friends.
Jessica is one smart cookie. This girl is fun, and loves to share in on good deals. Such a great personality and big heart for moms. Matthew, a doting dad, and a blogger himself. I need to find his blog again. They are new parents to a little boy, and both just love him and God so much. Such a pleasure to have met them.
As we are seated around our dinner table, the conversations all quickly begin, the food is being ordered and laughter fills the room. At one point I remember fading off into my own thoughts for a second, while looking where I was sitting. I was sitting with some amazing people. I felt that God was up to something but I wasn't sure what exactly. All I know is that in that moment, everything was right. I felt blessed.
At another moment, I remember sitting there thinking about Angie as she sat there next to me, telling many of her funny stories. And she had lots of funny stories. As she was talking, I remember thinking of Audrey. Thinking "this beautiful mother next to me, lost her child." I quickly had to break my thoughts or I would have just lost it right then and there. I honestly just can not imagine that kind of loss or pain.
However, I remember thinking that I had not mentioned Audrey at all. I didn't want to be the one to bring up something so fragile and painful. I also didn't want to be just another one of those that didn't bring it up, like it was the forbidden fruit to talk about, or to have her feel that she wasn't able to talk about her daughter with me. When I saw the door open for a moment to ask her, I gently tapped her arm and said "I think about Audrey often." She smiled, her eyes so gentle and you could tell how much joy it brought to her just to have heard the name Audrey. As we talked for a moment, we also got to talking about her current pregnancy. What a beautiful pregnant lady she makes. She had the "glow" although before dinner that evening she wasn't feeling all that well. This pregnancy has made her tired. She is expecting another daughter and soon she will be the mother of five princesses.
Ahhhh.... what a night. What a trip.
I still sit here all wide eyed and amazed, how God shows us HIS love, beauty and grace every single day. I often wonder how often does God try to say hello to me in some subtle way that I miss every day, or take for granted?
Because of conflict in schedule of work and travels, I wasn't going to make that trip to Nashville. Someone else would have filled in my spot. Instead, God said "no, this is YOUR trip Misty. I have some special people for you to meet."
And that I did.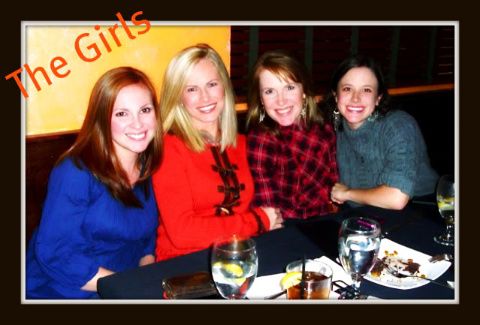 And as if that wasn't exciting enough..... I have MORE SURPRISES to come (Nashville Part III). You are going to like this.
Look out for that post to come very soon. Not like in a couple of months soon, but in like a day or two soon. Its so exciting that I can't wait to write the post and publish it already.
I hope you and yours has a very blessed Easter holiday.