Click on Button Below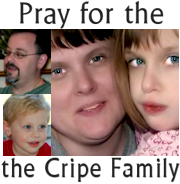 The bible tells us to "Bear ye one another's burdens and so fulfill the law of Christ."
Post copied and pasted from Lynnette at
Dancing on Barefeet blog
.
UPDATES
: (Will go here)
I'm asking you to bear the burden of a family in need. I met Danielle Cripe when I first started my blog over a year ago. Danielle shared with me that she had been diagnosed with stage IV liver cancer in October of 2007. She is married and has two children. Her 7 year old daughter Arwen is a child with many special needs as well. I introduced my readers to Danielle through Getting to know YOU earlier this year, and she was also the recipient for
Baby Be Blessed Dolls
- Give a Blessing.
Danielle was recently told that the doctors don't expect her to be here to celebrate Christmas. Her health has taken a turn for the worse, and as you can imagine, her heart is very heavy for her family.
Can I ask you to do a few things for me and for Danielle?
1. Would you
commit to praying
with me for this family?
2. Would you please grab this button and add it to your side bar?
3. Would you go one step further and create a blog post telling your followers about this precious family and ask them to pray for the Cripe family and to spread word on their blog as well?
I've also created a Paypal button if anybody would like to give to this family. As with any medical needs, there are many expenses. Danielle and Arwen aren't the only ones with medical needs either. Rick (her hubby) has type I diabetes and Sebastian has Cystic Kidney Disease. The money would be used for whatever needs they have - I won't be asking them what they are using it for so if you can't donate without a follow up list, please just commit to helping in other ways. I just want to help lighten the burden and financial support always helps. I will update this page with reports on donations so you can see how they are being blessed. (The paypal donation button was set up in my own account with a donation report for the Cripe Family - I will be sending them checks). *Note - This will not be tax deductible.
Cripe Family Needs/Wishes (She made this list for me):
Our wish list: (Most of these are for locals, but I've bolded the things that you can help with if you are not local).
1. Occasional prepared meal, we aren't really picky, just no tuna or ham please. Pork is a flammatory to the system.
2. Help with housework
3. Gas cards or gift cards for groceries or food places or even a visa prepaid card to be used most places, this would help tremendously with us going back and forth to doctor's appointment, Cleveland Clinic, therapy appointments, etc.
4. Occasional sitter for the kids, mainly Sebastian as Arwen has a hard time with communication and unless you know her it would be more stressful than good for me in the long run, I think that is the best way to explain it, those who have special needs kiddos probably know/understand what I'm talking about
5. Maybe coming by to visit (please no sickness exposure though)
6. Coming to our house and keep the kids occupied while I get some rest
7. Cards, pictures, little things for the kids
8. Memories written out for the kids to read later in life
9. Play dates for the kids
1
0. Music, books, inspirational quotes, magazines for the kids
11. Prayers, good thoughts, love
Anything else you may think of, it is hard for me to think right now or on the spot. Whatever your heart leads you do for us is so appreciated.
Our kids know that I am sick and that I may go up to Jesus soon. They have NOT been told of the latest call from the doctor 2 weeks ago. They will not be told, it does them no good to know this information. I am limited to what I will discuss in front of the kids.
________________________________________________
Family and Diagnosis Info: (Put together by Danielle)
Rick and I have been married for 12 years.
Arwen is 7 years old
Interests: anything to do with cars- hot wheels and car magazines especially, dollhouse dolls, baby dolls, water, music, magazines, books, Bear in the Big Blue House
Sebastian is 5 years old
Interests: superhero- xmen, Spiderman, batman, TMNT; dinosaurs, Scooby doo, building sets, art, play dough, PBS, kids magazines, books, movies
Financially we have been drained as most with such medical expenses. Although most of the Cleveland Clinic appointments are paid for, there are still the co-pays, gas- it is a 4.5 hour drive each way, lodging expenses even if we stay at the Ronald McDonald House, food. We are currently trying to get Arwen an augmentive communication device and a special medical stroller. We also have many expenses home therapy wise, and special conferences, all out of pocket. I try to work with basic learning for an hour a day with Arwen. I am currently on many supplements that insurance does not pay for. Also I am doing some other alternative therapies (massage, iridology, juicing, cleansing, aromatherapy) that insurance does not pay for. We are still paying on testing that has been done in the last 2 years.
__________________________
Hello, we are the Cripe family, Rick, Danielle, Arwen, and Sebastian. We have been on an interesting journey these last several years. I often joke our 'normal' basic days are what most would consider a bad day! With the love and support of family and friends and even strangers, and the power of prayer we are all still standing. Arwen has special needs, she has developmental delays, apraxia, sensory integration disorder, and suffers with a variety of seizures. She was recently diagnosed with Mowat-Wilson Syndrome. I, Danielle was diagnosed with Stage IV Liver cancer with mets in October of 2007. At this time I was given 6-9 months to live. After two years, while I can't say I'm anyway near remission or cancer free, I am still here on Earth. I believe God isn't finished with me here on earth yet. My kids and family are the reason I fight so hard each and every day. Rick has been dealing with Type I Juvenile Diabetes for 36 years. He is in very good health considering having diabetes for so long and has had minimal complications. Sebastian is our spirited, tender hearted, ornery, super hero fighting, spunky 5 yr old son. He was born with cystic kidney disease. By the grace of God he has not had any complications or reoccurrence since he was one. To continue to read our story please visit the Caringbridge site. Although our journey has been difficult, overwhelming, and exhausting I can honestly say I wouldn't change the way thing occurred. Everything happens in its own time. God is our great practioner and only HE knows the details, the life road map for us. Thank you for taking the time to read about us. God Bless..

Arwen's diagnosis:
*Mowat-Wilson Syndrome (MWS), Mosiacism (diagnosed August 2009)
http://ghr.nlm.nih.gov/condition=mowatwilsonsyndrome
http://www.chromosome18.org/Conditions/Mosaicism/tabid/490/Default.aspx
*developmental delays-mostly, non verbal, walked on own 25 mths old
*apraxia (leaves the first letter off word, knows what wants to say just cannot get the words from her brain to her mouth)
*Seizures/epilepsy- daily falling and eye flutters, staring/absent, one sided- usually Right side and sometimes paralysis for an hour afterwards, grand mal
http://www.chkd.org/HealthLibrary/Content.aspx?pageid=P02621
*Sensory integration disorder
* Microcephaly: small head circumference.
Prognosis: cannot be determined with a syndrome, it is not a disease, it is a genetic disorder. She may or may not grow out of the seizures. With MWS most are non verbal. Arwen is very bright and understands what is being said and knows what she wants to say but cannot get the words out through her mouth. Arwen is currently in speech and occupational therapy at school, in a lifeskills class, receives private speech therapy, on medication therapy for her seizures. Being treated locally for her seizures and going to Cleveland Clinic for extra seizure support, MWS, Mosiacism, behavior, and augmentive communication.
Arwen is a strong, loving, caring, courageous, tender hearted, social butterfly, our miracle girl, ornery, stubborn, spirited, little 7 yr old girl.. She also happens to have developmental delays, seizures, apraxia, and sensory integration disorder. She was diagnosed with Mowat- Wilson Syndrome and Mosiacism in August 2009. She does have some autistic characteristics but the doctors state she doesn't have autism. Arwen suffers with staring/silent, falling, eye flutters, spasms, and grand mal seizures. Through the years Arwen has had multiple blood tests, genetic testing, sedated MRI of brain, EEG, hearing tests, and has seen many specialist. None of which have pointed us to why and what would be her best therapy. In June of 2009 we took our journey to Cleveland Clinic. It was while we were there in August we saw a geneticist who did multiple bloodwork tests and discovered Arwen has Mowat- Wilson Syndrome and Mosiacism. Her second chromosome is only partially there. The second chromosome helps with brain development, milestones, seizures, speech. Arwen has been seen by the Epilepsy Center at Cleveland, along with a pediatric neurologist, behavioral/psychologist, geneticist, ophthalmologist. With the blood results leading to a diagnosis of Mowat Wilson Syndrome, Mosiacism, and Variety of type of seizures/epilepsy. We will be heading back to Cleveland Clinic the last week of October. This appointment will be to discuss the new diagnosis and do some baseline testing for her heart, kidney, hearing as these can be affected with MWS. We will also be seeing Augmentive Communication specialist and Behavioral Specialist. The epilepsy specialist believes her seizures are secondary to her developmental delays. Arwen is also on a new drug combination for her seizures, Lamectial and Depakote. Arwen has been started on Risperdal for behavior. She also takes nutritional supplements. Arwen currently attends a typical elementary school and attends a life skills class, she interacts with her 'typical' peers daily. She is in occupational therapy and speech therapy. Arwen uses some speech, sign language, pictures, points or just goes and gets what she wants, and will be starting to use a voice board to communicate. She tends to leave the first letter off a word (apraxia), so daddy would be "addy" or 'ead' is for read. With her being unable to communicate easily, we are going to try an augmentive communication device. This is a box with numerous pictures and has sound. This will allow Arwen to push on the picture and tell anyone what she is needing, wanting, or just plain ole communicating to others. We are very excited to try to start using this. We are currently awaiting to find out what insurance will pay for. These devices are very expensive, we are hoping to get a device that can grow with Arwen as she gets older. Watching her do something new and see the sparkle in her eyes with happiness with herself makes my heart smile and I am so proud of Arwen. We are truly blessed to have her as our daughter, she has taught us so much in her short 7 years of life. God is our great practioner and HE is holding Arwen in the palm of his hands. He knows what Arwen's future holds.
Danielle's diagnosis:
Stage IV Cholangiocarcinoma with total involvement of liver, with metastasis to outer stomach wall, RLL (right lower lobe) lung, spine, and lymph node involvement diagnosed in October of 2007. Given 6-9 months to live at this time.
I am mainly using alternative medicine for treatment as conventional medicine didn't have a lot to offer. Chemotherapy only had a 5% chance of helping. I choose not to receive chemo due the side effects possibility and with only a 5% chance of working the benefits did not out weigh the risks. I have had some radiation. I use supplements, diet, tai chi, spiritual work, prayer, steroids, pain management, and have seen many specialist both in western and eastern medicine. On a daily basis I deal with numbness, electrical impulses, sometimes feels like bugs crawling, in my hands, arms, legs, and face, itching, pain, nausea/vomiting, pain, colitis, extreme headaches, and extreme fatigue. I am currently in hospice care. I've been battling with recurrent pneumonia and anemia bouts recently. I have been given many 'death sentences', the most recent was two weeks ago. I have been told that I will probably not be alive by Christmas. This was based on new tumors found, bloodwork, and how I am currently feeling. The reason I am still here is GOD. He isn't finished with me here on earth. I have grown a lot in the past 2 years and proud to say I'm a better person because of cancer. Yes, it sucks to be honest, but sometimes the best gifts come in the ugliest of packages. I am so grateful for every day I have here with my family and friends.